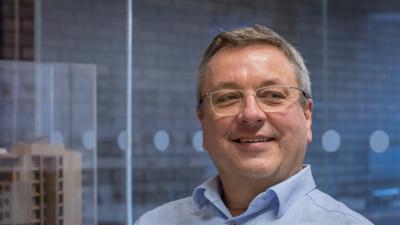 Director
Andy Avery
Andy leads Buttress' residential and regeneration team and has the rare ability to cut through to the heart of complex issues to find a solution.
Andy graduated from the Oxford School of Architecture in 1986 with honours in both architecture and urban design and has operated at board level within the profession since 1996.
Throughout his career, Andy has designed, coordinated and managed a wide variety of major developments ranging from individual, private and public sector projects. His work is design led, based on theoretical, intellectual, philosophical and practical judgement.
Andy is also an experienced Urban Designer and regularly undertakes masterplanning projects. He co-authored the Urban Design Code for the regeneration of Hulme in Manchester, which has gone on to become the standard by which many UK urban design projects are measured.
Placemaking sits at the heart of Andy's design approach and he is committed to empowering people to achieve a shared vision for a better place and a better way of life.
Most recently, he has been involved in a number of residential projects that form part of the significant ongoing regeneration of Chapel Street - Salford's historic and civic core. This includes the Housing Design and RIBA Award-winning Timekeepers Square - a scheme which has been recognised by the Ministry of Housing, Communities and Local Government as an exemplar of successful contemporary residential design.