Behind the B: Grant Prescott
Associate Grant Prescott discusses the challenges and opportunities of heritage architecture.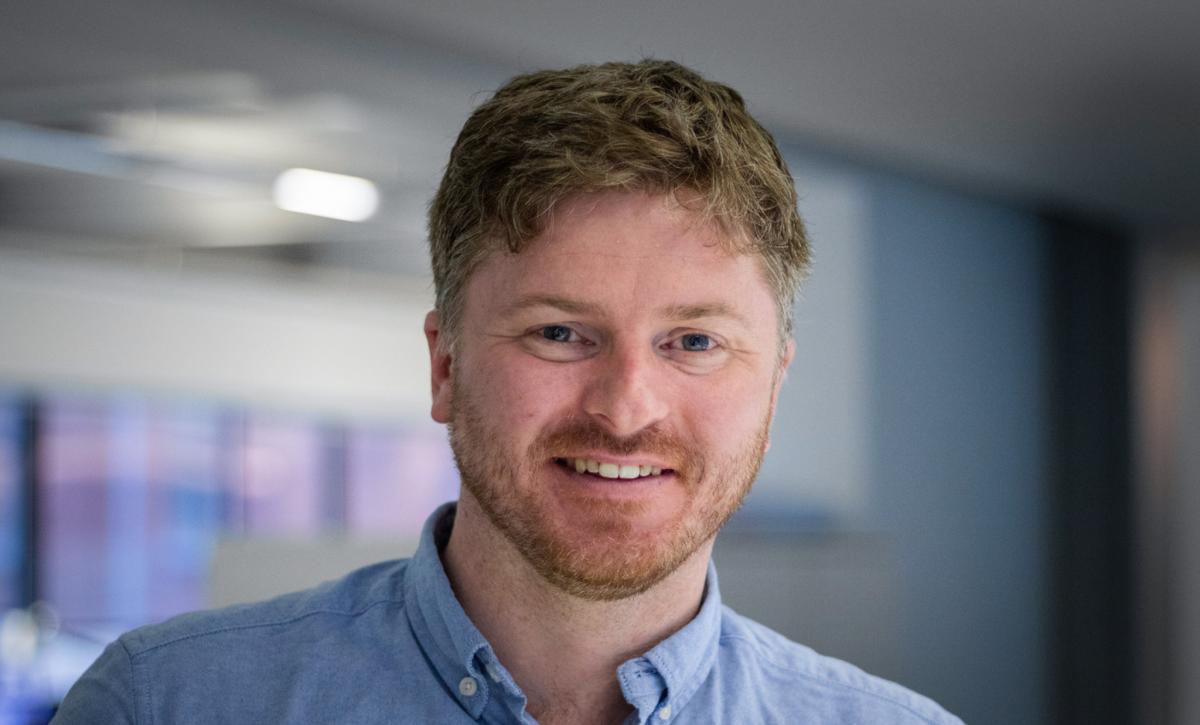 In our latest Behind the B, Associate, Grant Prescott discusses the challenges and opportunities that come with working with historic buildings and the role that heritage can play in creating a more sustainable society.
What drew you to a career in heritage architecture?
My interest in heritage was sparked during my Part 1 studies, where I became interested in the ways in which buildings were influenced by civilisations and cultures, and how this has continued into the present day.
What is it about working with historic buildings that you enjoy?
One of my favourite things about working with historic buildings is being able to explore parts of them that the general public doesn't get to see. My job has presented me with some unique opportunities, like being able to clamber around in roof voids, or stand inches away from a high level sculpture that's hundreds of years old.
I'm also fascinated by the cultural and sociological context of a building or place. I enjoy thinking about the people that would have occupied a building at different points in history, and how this has influenced its design and development over time.
I also enjoy the challenges associated with historic buildings. When we become involved in a heritage project, it's usually at the stage where the building is in need of a little TLC. I enjoy unpicking what's left of the building, taking the remaining pieces, and creating a new chapter for the site.
You've recently worked on the regeneration of the First White Cloth Hall in Leeds. Why was it so important for this building to be saved?
The First White Cloth Hall is a significant building not just within a Leeds context, but also within the wider history of the textile industry.
It was rapidly built in 1711 to prevent the nearby rivalling merchants of Wakefield from getting ahead in the textile industry. As the first covered hall for cloth trading in what was then the town of Leeds, the building played a significant role in spearheading the commercial growth of Kirkgate and establishing Leeds as a dominant force in the textile industry. A lot of its growth as a city can be attributed to the First White Cloth Hall.
For this reason, I think that a lot of people in Leeds feel a connection to the building, so losing it would have been a disastrous loss to the city's story. The restoration signifies a new chapter in the building's history, whilst still retaining a tangible link to Leeds' past.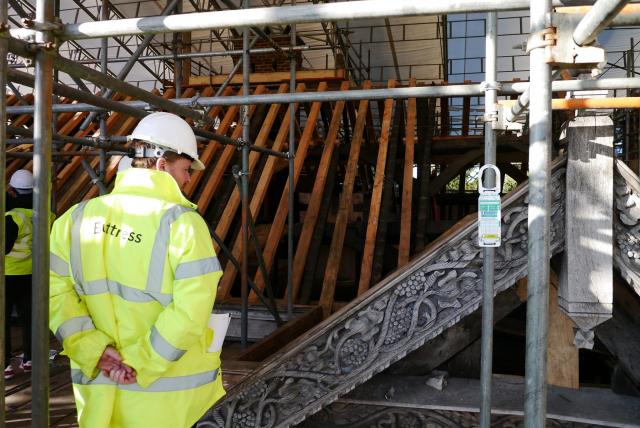 What were some of the biggest challenges you faced when working on the project?
One of the biggest challenges was the condition of the building. When Buttress became involved in late 2015, the building was in a perilous state. It was crumbling and decayed, and only extensive scaffolding was preventing it from collapsing. It also meant that we could not fully inspect the building at that time. The condition was deemed so poor that it was placed on Historic England's 'Heritage At Risk Register', on which it remained for over 20 years.
The project also required us to think on our feet quite a bit. Some of our original design proposals had to be amended after the surprise discovery of a substantial amount of original material. For example, we had to revisit our original shop front designs after we found some original stone quoins that were concealed behind a 20th-century shop front. We wanted to make sure that these weren't lost and that they could be retained as part of the project.
What underpinned your approach to the restoration?
The First White Cloth Hall has undergone a variety of modifications during its 300-year history, including some significant Victorian alterations. Rather than creating a sterilised and conjectural version of what the building used to be originally, we wanted to make those historical chapters legible by preserving what remained of the building so that we could show this development through time.
The finished building is an incredible archaeological record of the First White Cloth's Hall many incarnations. There are so many layers to the building: there's Buttress' contribution, but then there's also the 19th-century brickwork and design, and the original fabric from 1711. We've even found a place for the 14th-century timber trusses. I think that's the great thing about heritage: you're not coming to a blank site and building something new – you're being respectful of that rich history and adding to it.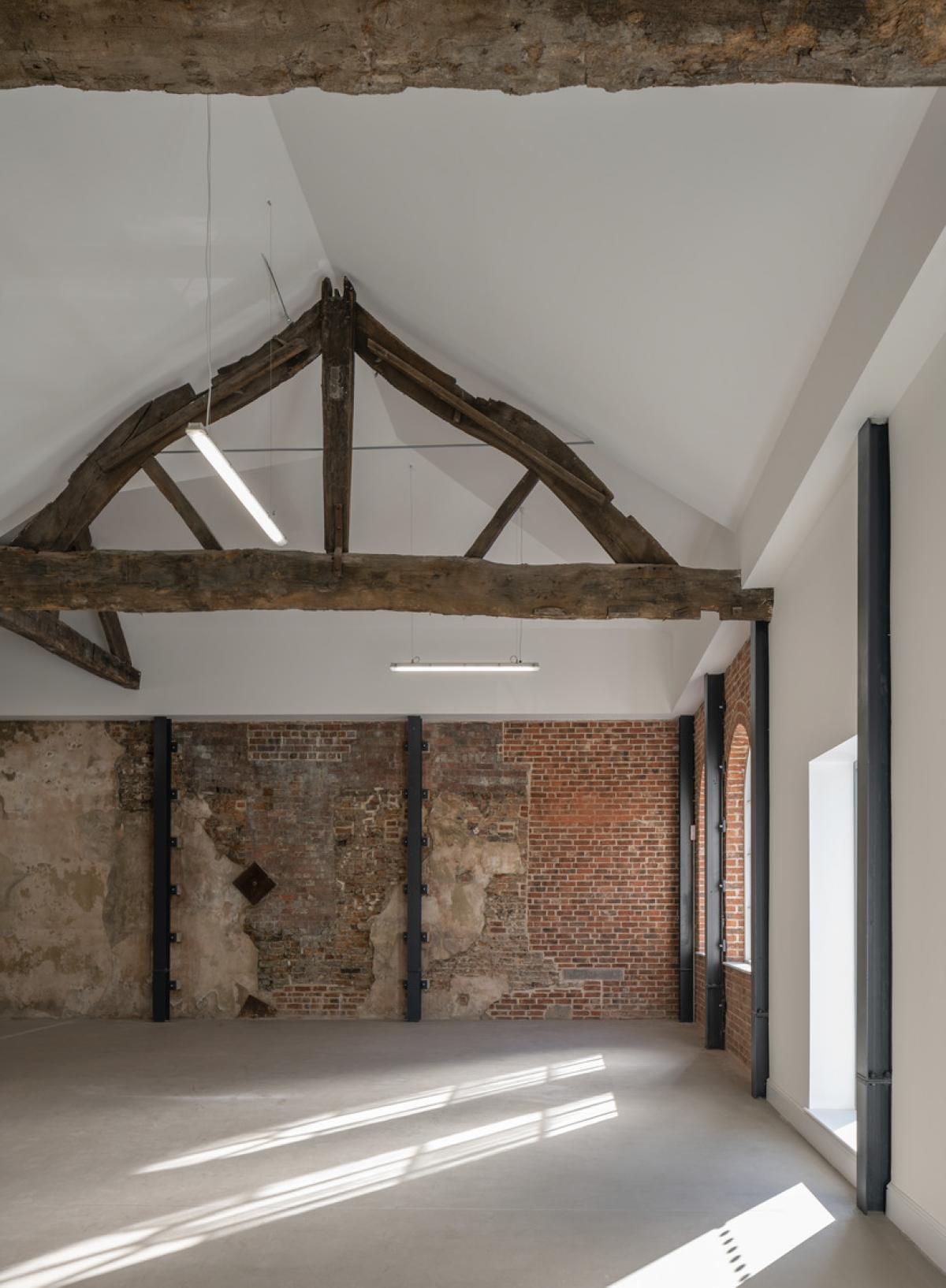 How do you think the way in which we work with heritage buildings will change in the future?
Technologies such as BIM have the potential to transform the way in which we manage the historic built environment and can be used for a wide range of applications, from informing conservation and monitoring condition to its use as an archive and information resource. At First White Cloth Hall, for example, a BIM model was used to help to unpick the highly intricate historic phasing and inform the conservation plan. Options for the site were then produced in sketch form and developed using BIM software, allowing us to work sensitively within the fabric and present an in-depth and considered design solution that meets the needs of the client and the heritage.
How can heritage support the creation of a sustainable future?
I think that heritage has a huge role to play in creating a more sustainable society, both environmentally and economically.
I believe that conservation is about the careful management of change and being able to adapt to the changing needs of society. For me, the most sustainable approach to architecture is to find a way cleverly and sympathetically of re-using existing buildings, rather than demolishing them and building something new.
In terms of economic sustainability and the levelling up agenda, I think there's a good argument for heritage, too. It's been proven that heritage-led regeneration can have a positive effect on the wider economic growth and sustainability of an area. Finding new uses for historic buildings not only injects life and vibrancy into towns and cities but can it help instil a sense of civic pride and uniqueness, attract inward investment, and drive job creation and business growth.
What do you enjoy most about working at Buttress?
I think that Buttress really cares about its people and has always strived to do the right thing on a project. There's a real sense of conscience to the projects that we work on that I feel really proud of.