Five-minute read: high-rise design
Buttress' Alison Haigh offers insights into the design considerations around tall residential towers.  
From a glance around the UK's major cities, the viewer cannot fail to notice that the skylines are changing.  Tall residential towers are growing in popularity and demand, and as a building type, they call to be explored in terms of how an architect's practice approaches them.  Perhaps it can even be suggested that residential towers demand greater thought than other typologies. After all tall buildings never fail to be noticed and are often subject to conversation, positive or negative.  Tall buildings dominate a wide area and need to be carefully located and integrated within the city context, allowing their scale, form, mass and proportion to have a positive relationship with adjacent buildings while allowing for the care of the existing views.  Ensuring that their new boldness fits with dignity and grace within the streetscape.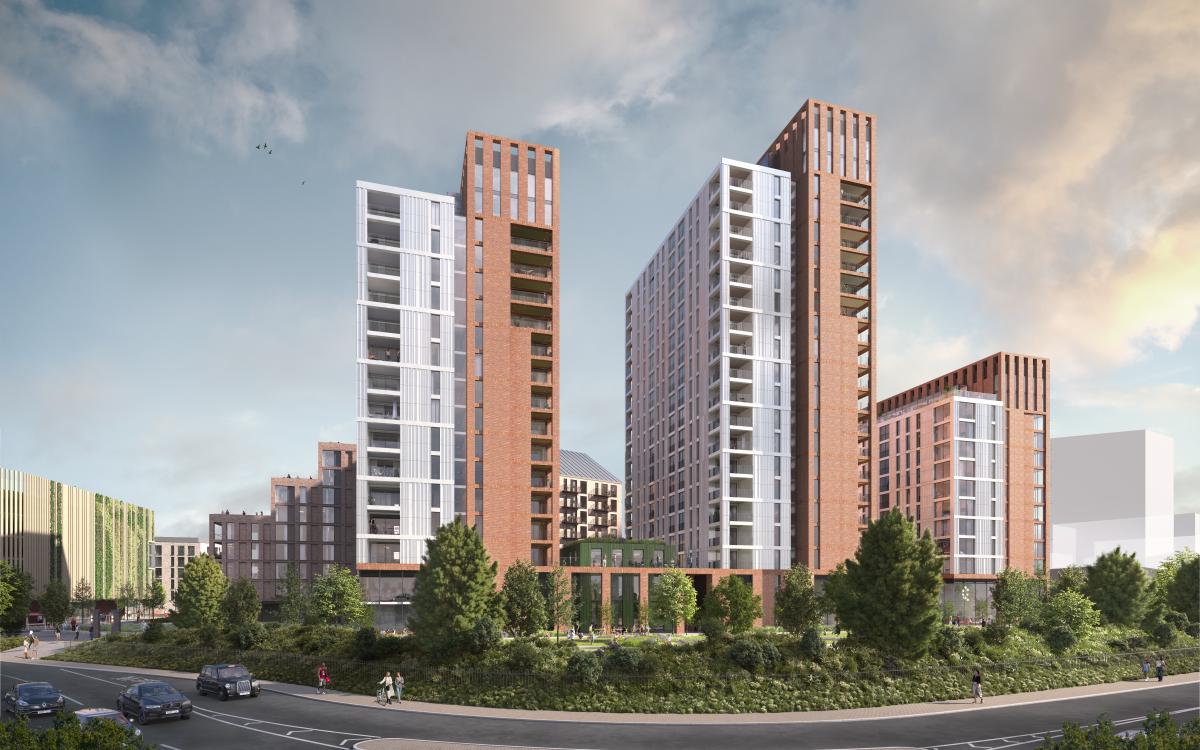 Whether individually or as a group, towers can improve the architectural legibility of an area. Strategically positioned towers can emphasise points of civic and visual significance. Towers can act as a navigational tool; therefore, their silhouette should be instantly recognisable and make a positive contribution to the urban skyline.
Towers need to work at two scales. They need to offer a unified single form at a distance, but from the street level, provide a detailed grain that responds to the human scale within the urban setting, The façade treatment should enhance a resident's quality of life by maximising views but should also provide a veil of privacy. Incorporating 'vertical greening' or winter gardens can be a good way of achieving this. It is also important to create visual connections to increase the perception of being part of a neighbourhood. 
Towers need to integrate appropriately at street level to positively contribute to their surrounding context and to create a sense of place. Access, servicing, parking and amenities need to be discreetly located to maximise active frontage. A high-quality public realm is also essential to accommodate pedestrian movement while allowing sufficient space for sunlight to penetrate and for views to be appreciated. Careful analysis of the microclimate (such as overshadowing, light pollution, vehicle movements and wind modelling) is also required to allow pedestrians to comfortably enjoy the local environment
At Buttress we advise at inception on the sustainable benefits of low-carbon design. We utilise fabric-first principles; a highly insulated envelope to create a stable and high-level base point from which to consider further sustainability initiatives. We explore the de-carbonisation of buildings throughout the process utilising carbon calculation tools to inform decisions on structural solutions, material choices and their embodied carbon. Heating is the largest consumer of energy in our dwellings and, due to their compact form, towers are inherently thermally efficient. Creating a place for residents to live in a city also significantly reduces the impact of car usage with many of the needs of daily life within walking and cycling distance supported by efficient public transit systems.
Good management is critical to delivering secure, supportive, and safe environments, and needs to be factored into such schemes from the start. Assuming eight dwellings per floor, a tower with 29 residential storeys would have 232 apartments and, depending on the apartment type mix, this could house 464 beds and potentially 696 residents. The resulting volume of service traffic is often underestimated - one supermarket delivery per week for each apartment would equate to 12,064 deliveries per year, and, depending on local planning policy  232 cycle spaces and 51 bins would be required with potentially 14,000 parcels received.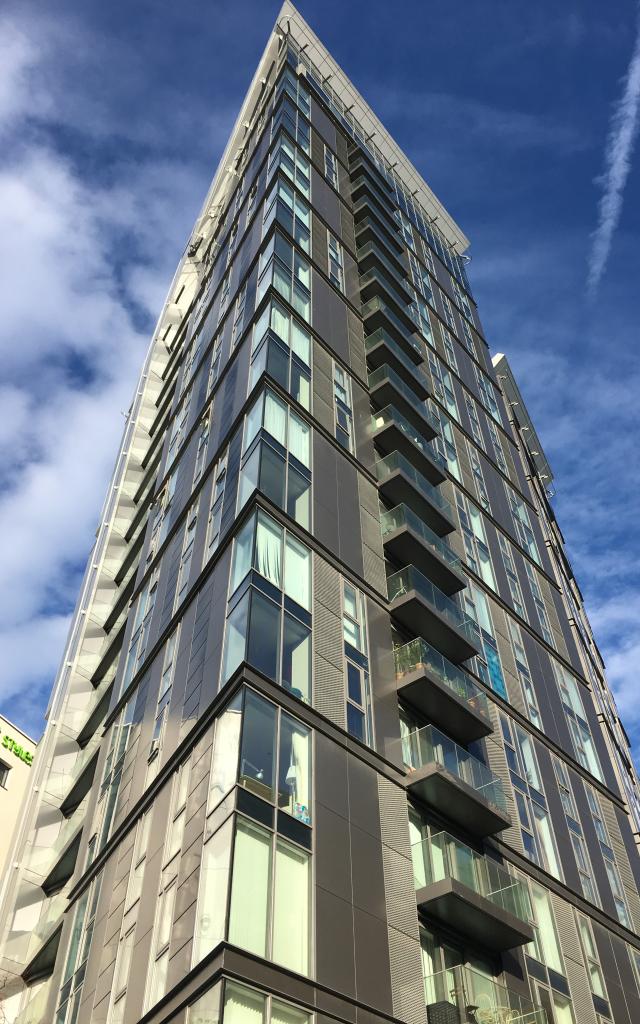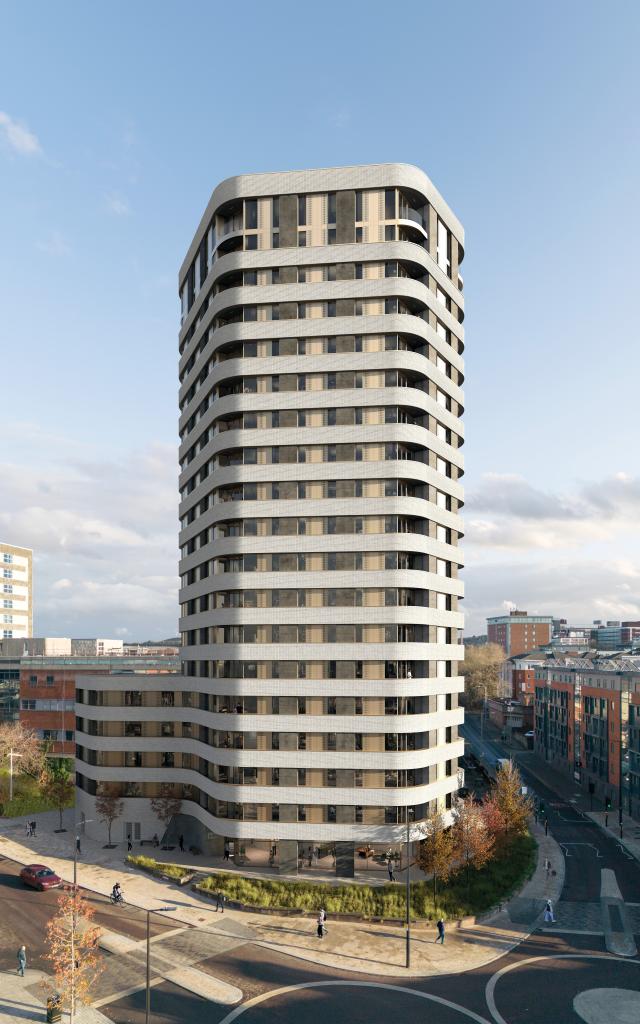 It is challenging to foster a sense of community in a tower – residents generally move straight from the lobby, via a lift, to their apartments. Many operators actively encourage social interaction by employing friendly concierge staff, and community organisers, holding annual festivals and allowing pets. Providing communal facilities such as lounges, gyms, cinema rooms and sky terraces; grouping mini-communities of similar apartment types and personalising circulation space can also reduce segregation. However, these need to be carefully located. For example, locating a gym on the top floor will require significant acoustic separation and a stepped floor slab, to provide level access, and increased floor-to-floor height and is perhaps more suited to the basement.
Whether a building is considered to be tall is relative to its surroundings. The definition of a tall building in the City of London is 150m (although City Hall counts those over 30m) but is generally accepted as being a building of 20 storeys or more. Generally, the higher the apartment, the greater the price premium be this sales or rental value. This not only reflects the enhanced view but also the exclusivity of living towards the top of a tower. However, most tall buildings are 20-29 stories as the net-to-gross efficiency of a typical tower decreases with height. Circulation core sizes get larger as building height increases, and efficiencies are further diminished by the requirement for intermediate plant floors above 30 storeys. Limiting the number of units coming to market can maintain sale price values and it is generally possible to do this on medium-rise developments but is harder to achieve on towers. Buildings over 30 storeys also have longer construction times and greater exposure to political, economic and social risk. However, build-to-rent (BTR) residential towers under the ownership and management of a single entity can benefit from economies of scale to support enhanced resident facilities and there has been a trend for higher buildings in cities where housing demand is greatest.
Reducing floor-to-floor height can significantly reduce costs so typically a storey height is 3.0-3.2m, which allows a 2.5m floor-to-ceiling height in living areas. Adhering to the minimum floor-to-ceiling heights and adjusting the floor build-up can make a big difference. Using post-tensioned slabs with an acoustic floor finish will be significantly thinner than pre-cast slabs on a steel frame with a floating floor. The service zone also needs to be minimised and ventilation intake and extract coordinated with the façade. 
Form, shape and technical complexity drive the cost of a tall building and are key factors in their viability. Wall-to-floor ratios reflect the number of facades so, from a cost perspective, the lower the better. In the UK, the constraints of developing in a historical context and the impact of small irregular plots, combined with viewing corridor and rights of light, restricts floorplate size. Therefore, a range of 0.45-0.55 is to be expected. External envelope costs can account for as much as a quarter of the total bill of a high rise, so it is important to minimize the wall-to-floor ratio. Typically, the most cost-efficient plan shape is a square. The bigger the square, the smaller the wall-to-floor ratio and the higher the net-to-gross area. However, planning guidance often restricts the number of units on each floor and increasing depth needs to be carefully balanced with apartment layouts and daylight factors to avoid a detrimental impact on residents' quality of life and sales values.  
At Buttress we advise at inception on the sustainable benefits of low-carbon design. We utilise fabric-first principles; a highly insulated envelope to create a stable and high-level base point from which to consider further sustainability initiatives.
The mix and size of apartments can significantly affect the floorplate. At lower levels, sales values tend to be greater for smaller units, while higher-up larger units are more attractive. Small apartments require more servicing and can be more difficult to access from a centralised core without losing the saleable floor to circulation, and therefore towers tend to have fewer apartments per floor to improve the net-to-gross area ratio. The core also needs to be efficient by optimising the lift and services distribution strategy and the structure following wind test results.
Balconies become less popular with height. More expensive solutions, such as recessed or winter gardens, tend to be used and this can significantly increase the building perimeter/area ratio.
Developers can attract a wider range of buyers and occupiers by offering a mix of uses or tenures and many examples exist of towers split across hotel and residential use. However, single-use or tenure buildings tend to be more efficient as multiple tenures will each generally need their own entry and circulation resulting in complex structural transition. Tenures with the most footfall should be located at the base. A possible exception to this is a high-level observatory where revenue can be significant.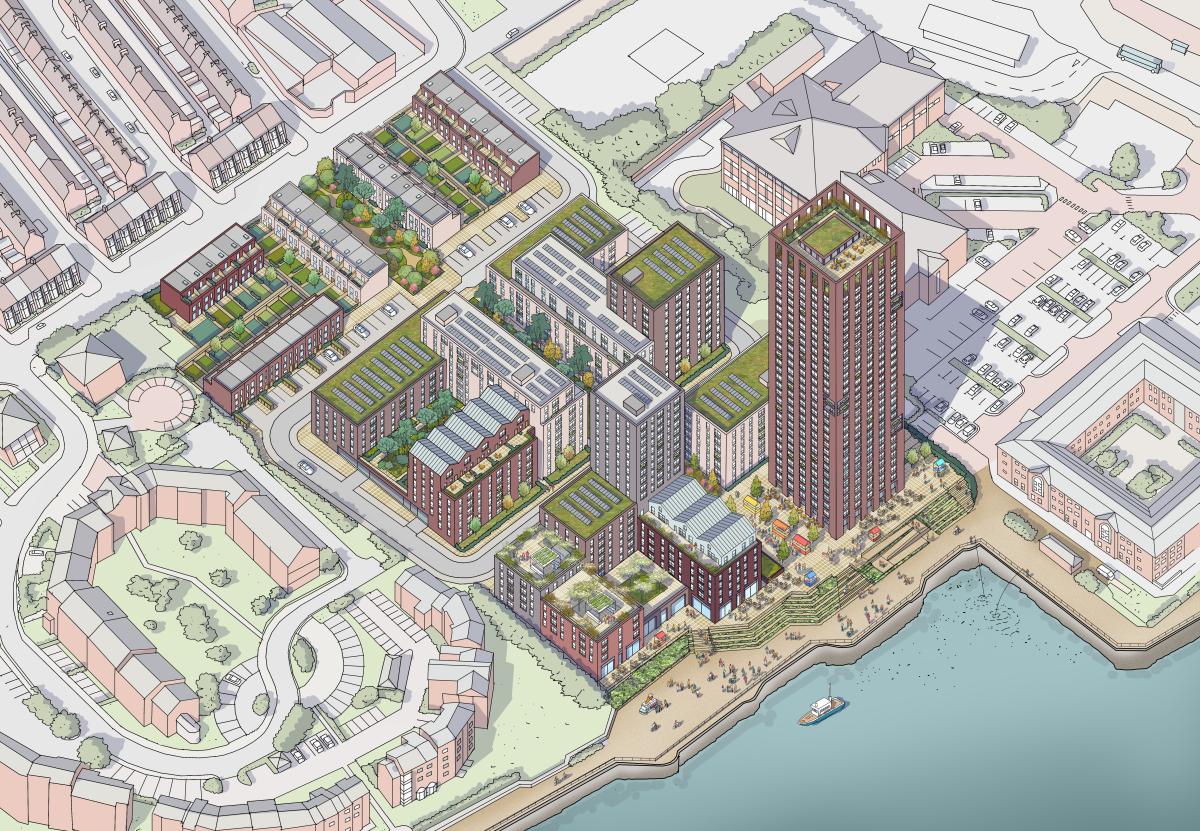 Tall buildings take on average, 28 months to construct and complete, due to their technical complexity and the challenges of working in restricted city centre sites. Labour productivity on towers also tends to be less than on low-rise, due to logistical factors and increased health and safety measures. To mitigate this, the construction method and sequencing should be considered very early in the design. Maximising repetition through restricting system types, minimising depth of facade zones and ensuring efficiency of construction through pre-assembly is key.
Traditionally towers were designed with a central concrete core with sheer walls that double as apartment walls, and concrete slabs that address fire, acoustic, height and span requirements cost-effectively. Recently construction techniques have been developed to reduce construction times, waste, the number of construction workers and provide higher quality and greater certainty on costs over time. For example, 'jump factories' can be employed, which are multi-storey enclosures, inside which the construction takes place. The factory is jacked up on a weekly cycle, delivering a newly constructed building which, from the outside, is complete, requiring only internal finishes.  Alternatively, prefabrication where concrete cores are used in conjunction with self-supporting volumetric modules and panelled facades.
At present, the tallest tower to be demolished in the UK (to make way for the Shard) was the 25-storey Southwark Towers. The typical way to demolish a building in the United Kingdom is by implosion – however, high-rise developments in dense urban environments tend to be dismantled manually. Towers also need to be designed to facilitate adaptation, and repurposing to reduce waste and extend the building's useful life, providing economic and environmental benefits for builders, owners, occupants and communities.
Alison Haigh, Buttress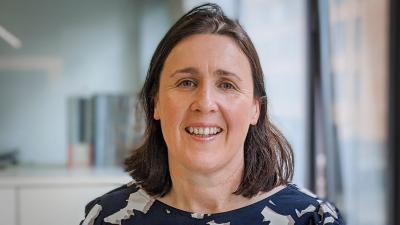 Associate
Alison is an associate at Buttress with over 20 years of experience in the profession, specialising in the design and delivery of major residential projects.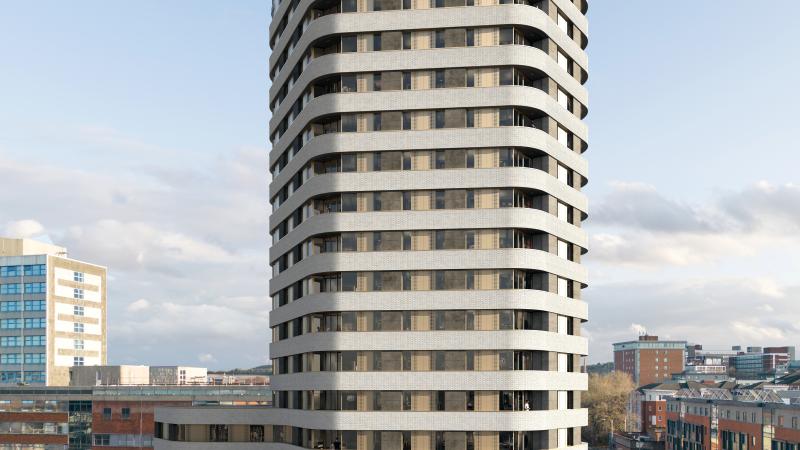 Plans approved for 120 apartments on Moor Lane, Preston
Plans submitted to Preston City Council for an iconic 19-storey landmark development on Moor Lane in central Preston have been approved.
Read more