Planning permission for Chapel Street scheme
The scheme will deliver 96 affordable homes.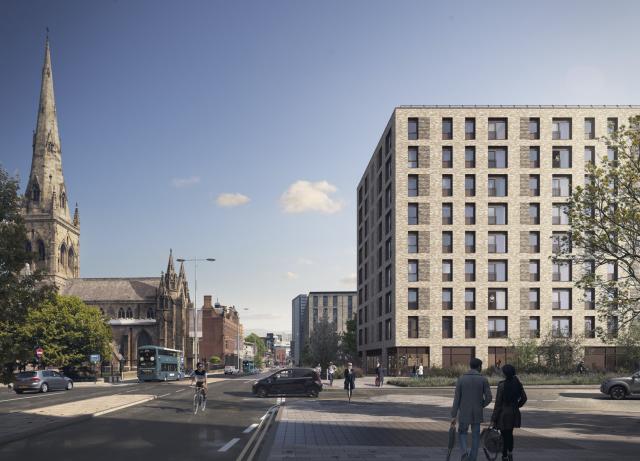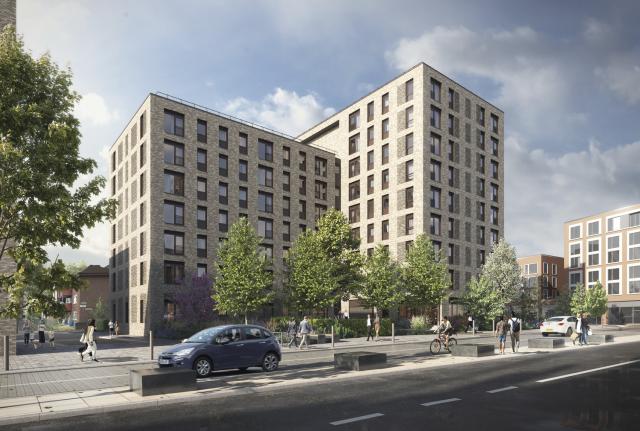 Planning permission has been granted for a 96-apartment scheme on Salford's Chapel Street.
Designed for The English Cities Fund, the scheme known as Greenhaus will be 100% affordable and will complete the residential jigsaw along Chapel Street. It follows a number of residential schemes Buttress has delivered for ECF as part of the Salford Central masterplan, including Atelier, Valette Square, Carpino Place, and the multi-award winning, Timekeepers Square.
Key to the scheme is a focus on sustainability and the development has been designed with the view to meeting Passivhaus accreditation. It also includes new public Electric Vehicle parking spaces, public square, and greatly enhanced landscaping.
Registered provider Salix has been selected as the preferred party to manage the nine-storey development.
Maggie Grogan, Senior Development Manager at The English Cities Fund, said: "As a responsible business, we're leading the charge and are committed to developing innovative ways we can deliver regeneration more sustainably and do our bit to tackle the climate crisis.
"So, to be able to deliver sustainable and affordable homes in the heart of Salford, is testament to the hard work, tenacity and progressive thinking of everyone involved. We believe that we're continuing to add to this diverse place through our work repurposing key parts of the city in partnership, by delivering choice and amenities, driving investment, while providing opportunities, all to directly benefit Salford community."
Alison Haigh, Associate at Buttress, said: "Over the past few years, we watched as the Salford Central area has grown and developed, establishing itself as a diverse and vibrant community. This scheme will contribute to the ongoing and successful regeneration of the area by bringing affordable and sustainable, high-quality homes."