Conserving Lincoln Cathedral: The Gallery of Kings
Conserving one of Europe's most significant cathedral edifices. 
Lincoln Cathedral is one of the finest, and largest, cathedrals in northern Europe. This, added to its unique hilltop location, makes it one of the most visible buildings in the UK. The building is Grade I listed and is situated in a conservation area and much of the site is a Scheduled Ancient Monument.
We were appointed as conservation architects to the Lincoln Cathedral Connected project, a major NLHF backed scheme of work to to radically improve the Cathedral's setting and visitor experience with extensive landscape works, a new visitor centre including cafe, shop, and exhibition spaces. Included within our scope of work was the conservation of the Gallery of Kings, a collection of eleven statues from the late medieval period, which sit on carved niches over the Great West Door of the cathedral. 
Over the years, layers of dirt, including pollutants, had settled on the stone. Some structure movement had also occurred on the ledge that the statues sit upon - these were stabilised to prevent further movement.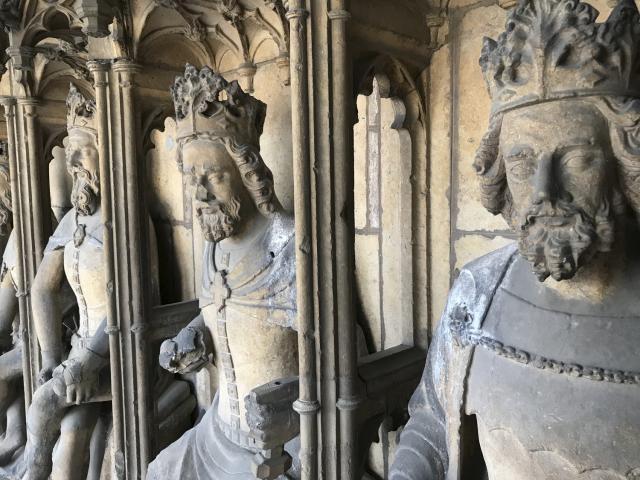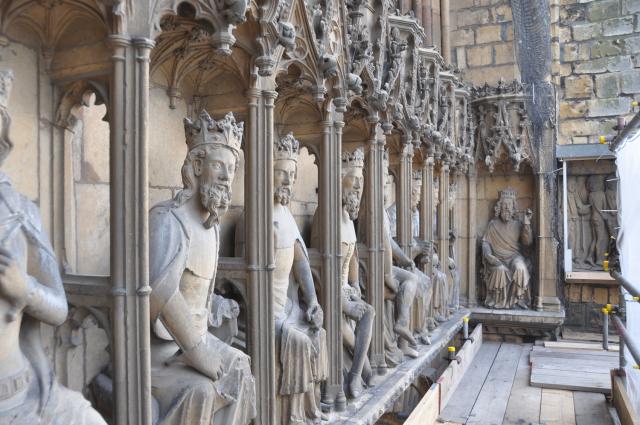 The first phase of the work involved carefully cleaning the statues and the canopies that sat above using laser techniques. Once cleaned, an assessment of their condition was carried out to identify where repair works were required. It was determined that, on the whole, the condition of the statues was good enough that they could remain in situ while the repairs were undertaken. The repairs involved refixing loose and unstable sections of the statues, removed iron cramps which were rusting, pointing up open joints in the masonry of the canopy and arranging for rainwater to be diverted away for the carvings. 
The most significant repair work was carried out to some of the statue's feet and hands where water ingress had caused them to deteriorate. In one case, an entire statue had lost its leg, so a new copy leg was carved and installed using stainless steel dowels and lime mortar.
The completed works have allowed the cathedral front to be seen and fully appreciated for the first time in a number of years, while ensuring that the carvings are preserved and protected for future generations.